The village of Saint-Laurent-des-Bâtons is located in the canton of Sainte Alvère. The Caudeau river runs through this agricultural town with its picturesque old buildings full of character.
The name of the village is taken from its 13th century church, originally called Sanctus Laurentius. According to legend, Saint Laurent refused to give up the church's treasures during persecutions in the middle of the 13th century. He was burned to death.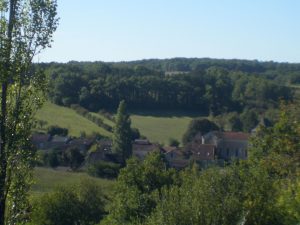 To the west of Saint-Laurent, next to the Gothic church of Saint-Maurice, a fortified castle was built in the 15th century, protected by moats.
In the 18th century, the village became Saint-Laurent-of-Baston in 1730. It is no longer known why it was called 'Baston' as the word doesn't exist in the Gourgues dictionary – Baston was not the name of anyone in the south.
According to tradition, pilgrims who came to meditate at Saint-Michel-de-Villadeix left a stick there for the Saint-Laurent church – Saint-Laurent-des-Bâtons literally means 'St Lawrence of the Sticks'.
Saint Maurice, the name of the small church, and the neighbouring parish, in Saint-Laurent-des-Bâtons, was joined with Saint-Laurent sometime in the 19th Century and appeared in the name of the commune. Saint Maurice first appeared in 1310, written Sanctus Mauricius. Maurice, archbishop of Lyon, was massacred with other Christians at the end of the 3rd century or the beginning of 4th century.
Annual Events
Votive festival the second weekend in August
St. John's Fire
Saint-Maurice Celebration
Hiking Trails
The town has four hiking trails
9 km Louillet circuit
8 km Caudeau circuit
12 km Saint Maurice circuit
8 km Cantelaube circuit
The explanatory leaflets and maps are available in the guide "Promenades et Randonnées à la découverte du Terroir de la Truffe" ("Walks and Hikes to Discover Truffle Land").
Local tourist office
Information:
Service Municipal du Tourisme de Sainte Alvère (located on the main street through Sainte Alvère)
Tel: 05.53.73.55.85
Fax: 05.53.73.55.99
Email : office-tourisme@ville-sainte-alvere.fr